July 30th, 2011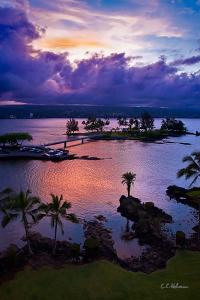 In July of 2009 my job took me to Hawai'i, the Big Island. I spent most of the month working and touring this beautiful island paradise. I stayed in a very nice hotel, the Hilo Hawaiian. If you go I suggest getting a room overlooking Hilo Bay. The town of Hilo and surrounding area was beautiful, laid back and friendly. It's not the real touristy part of the island so you get to see more of the real Hawaii. They do have some wonderful shops and galleries here, more locally owned and non-franchised. What I like to call Island born. The shop owners were locals who were very knowledgeable about their past and how their products reflect the history of Hawai'i. I found this part of the Island more lush and tropical than the tourist side around the more famous city of Kona. I spent one day in Kona. It has a few nice beaches, a ton of major stores, serious charter boats for fishing or diving and a lot of tourists. A wonderful city but not my cup of tea, so to speak.

I drove along the coast and found many beautiful areas to visit. One such spot, that is really easy drive right by, is Whittington Beach Park. The water is too rough for swimming most of the time, but the waves are gorgeous. Several of my best wave pictures were taken here. It's a nice place to take a picnic lunch and enjoy a peaceful afternoon. Another wonderful place and possibly my favorite is the Hawaiian Botanical Gardens. This place is along a scenic road, north of Hilo, which goes through a couple areas where rock walls covered with flowering vines and bushes tower overhead. When you get your trip to Hawai'i, these gardens are a "MUST" visit. Go early and don't be in a hurry to leave. There are an amazing number of flowers of various types and every color. Almost everything in these gardens has some type of blossom. Unfortunately for me, I found this place on one of my last days on Hawai'i. I spent most of the day there and really could have spent another full day and maybe I'd have taken all the pictures I wanted. A "wonderful" place.

I took so many pictures that it is taking me time sort through and pick the best to show. So visit my Hawaii Gallery regularly to see any new additions.

Chris

July 30th, 2011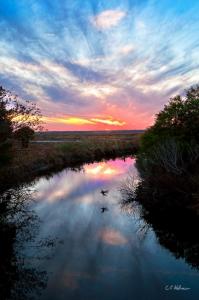 This entry is prompted by a recent experience and several web/blog readings. First, the experience occurred the other evening as I traveled home from work. I endure a lengthy drive everyday which takes me through several small towns and a couple of the marsh and wetland areas of central Florida. The road I traverse is a small two lane highway with limited shoulder space. This is where some of my best scenic images have been taken.

The other day as I was making my way home nature decided to put on a beautiful show of light and colors. Now Iím never in a rush when driving through nature rich areas to start with but this display caused my foot to ease a little further back off the pedal. Of course the gentleman behind me did not care to enjoy the show and proceeded to start beeping his horn and racing up onto my bumper trying to get me to hurry along. We were the only two vehicles on the road and we went through several passing zones but he seemed content with being discontented and continuing his beeping. Eventually I found a spot where the road widened for a bridge and pulled over. The gentleman behind me raced past, I waved one hand towards him and he waved what I figure to be his only good finger at me, then all was quiet.

The sun was settling down over the left side of the bridge and generating some gorgeous colors. I grabbed my camera and stepped to the other side of the bridge to capture the end of the evening show in peace. I captured several beautiful shots, a sample of which is posted with this entry. I felt sorry for the other gentleman for not having enough time or patience to truly enjoy what was happening in his environment.

I have spent plenty of time as many folks do nowadays reading blogs and art site forums. Most have interesting and insightful discussions and ramblings that offer one new ways to improve art/photographic techniques as well as web, social, and marketing skills. Very helpful information for todayís struggling artist, IF one makes an attempt to apply said information. Just knowing what to do is not enough; you have to use what you've learned and refine it to fit your needs.

Then there are the discussions that start with, ďi been on this site two whole days and havenít sold crap?Ē which is usually followed by the obligatory, ďthis site sucks!Ē I know some of these statements proclaim to have been on the particular site for months and even years without sales but, for the moment I want to focus on those who expected the world to instantly start buying their ďcrapĒ as soon as they posted it. To me their first issue is trying to sell crap. I and many artist friends prefer to sell art/photographs. If one wants mass produced crap in a pressboard or plastic frame, Walmart and several ďart supplyĒ stores can easily fill that need. So posting crap on FAA and other respectable art sales sites is a total waste of time and effort. I also feel that if you're referring to your work as "crap" you totally lack confidence in your abilities and should join a local art/photography group for support or find a different creative outlet. Next, just because your crap is posted on the internet and is accessible to everyone on the internet doesnít mean your crap will appear at the top of everyoneís search engine. It takes time to be seen, more time to actually be noticed and even longer, if ever, to be appreciated enough to get a sale.

Patience is the one commodity that is a must for folkís intent on making it in the art industry. Great images take time and patience to create. Getting into the market and achieving sales takes even more of the same. Instead of complaining about lack of sales use patience and take some time to study the works that are selling. What makes them marketable? Figure out how you can use the gathered information to make your work marketable. Do a little research to determine which groups of people buy your style of art and focus on presenting your works to those groups. No matter what action you take, it will take time, so donít be in a rush. If I had let the aforementioned gentleman rush me along I would have missed the opportunity to capture some beautiful images as well as enjoying a relaxing moment with nature.

Chris

January 12th, 2011
How I Got Here - an extened version of my frontpage Biography

I first got my hands on a camera when I was 2 years old. It was a beautiful Kodak Brownie. This moment was recorded by my grandfather who always carried at least three cameras. I didn't immediately start taking pictures but I did get into art. My first memorable works were in oil. My parent's oils to be exact and my first canvases were the screen door of the house and the side of the family car. Later I even added my own special touch to their paintings. That's when my parents decided I needed my own supplies. From then on I was always drawing or painting.

When I was 13 years old, Kodak came into my life again. The neighbor across the street had several boxes out on the curb which drew my attention. Upon inspection of the boxes and a short conversation with the homeowner, I became the proud new owner of a Kodak 35 Rangefinder with manual, 2 Portra lenses, 2 bulb flashes with bulbs, a compact tripod, A Weston II handheld light meter (still have it and it works), an aluminum lens shade (yup, real metal), a leather case and film. Turns out the neighbor couldn't figure out how to open the camera to put in the film. I took my new toys home, opened the manual, read the manual, opened the camera, put in the film and proceeded to become addicted to photography. That Christmas my grandfather gave me everything I needed for my first darkroom. From that time until 1996 I always had a camera or two with me. Even through most of my Air Force career where I was a Satellite Communications Technician and Instructor. On several of my assignments I was able to work my photography in as an additional duty.

I married my High School sweetheart in 1977. She already knew my love of photography and learned quickly that the first decision when selecting a home was always where to put the darkroom. If it couldn't be done we went to the next place. I worked a myriad of different jobs before I served 20 years and retired from the US Air Force. Through these years we had 3 beautiful daughters who all got to be my models, willingly or not. In 1995 the Air Force moved us to a base with very limited on-base housing and overpriced off-base housing. This is when the first decision changed to "Where are we going to put the little ones?" And so my darkroom went into storage and eventually my cameras went with it.

Seven years later I retired from the Air Force. I didn't jump right back into photography due to the space issue still loomed as well as the accessibility of darkroom supplies. I spent the next five years as a contractor doing applications development and computer maintenance/repair.

At the end of February 2007 I finally bought a Sony A100 DSLR with several lenses and the rest of the gadgets they could talk me into and started back into the world of visual exploration. By mid June 2007 I had over 7,000 images. Many of which were nothing more than painful lessons. To say I was rusty would be a polite way to put it. I had to re-learn many of the skills I used to perform naturally and there are still more to remember.

I have upgraded several times since that initial purchase, both hardware and software as well as improved my skills with lots of practice. Not as much practice as Iíd like but Iím working on that issue. As far as the images on display here, you'll notice quickly enough that I don't limit my vision to any specific style, target or environment. If it gets in front of my lens and I like it, it's mine. With more time and experience I may settle into a style and/or specialty but, until then Iím going to keep having fun exploring the possibilities available. I hope you enjoy my work and please feel free to contact me if you wish to discuss any of the images presented here.

Christopher Holmes

January 5th, 2011
I'd like to thank everyone who has perused my photography and an extra thank you to those who were kind enough to leave comments. I'm glad to see my works being enjoyed. I'm in the process of moving all of my works here to FAA. Of course the process means looking at the older images again, keeping some, reprocessing a few, and then dumping others. Like cleaning house, an individualís tastes change, skills improve and personal level of acceptable quality, hopefully, moves up.

It's a time and experience thing. When you first start showing your work you try really hard to get as much as possible out there into the world to get that exposure. In these early days you think you're doing well with the amazing amount of output. And with the way the odds work, you actually end up with some awesome images. However, with time, more experience and the ever growing desire to spend more time outside away from the computer, you begin to study your works a bit more. You find it really hard to find your wonderful images amongst the multitude of OK images. This is when you change from how much work can I put out to how can I help my works stand out. You start looking seriously at the work of other artists to find out how it differs from yours. You start reading magazine/online critiques of art works to see if they have tips or information you may use to improve your work. I mean the "real" critiques, not just the "Oh that's wonderful" comments folks post on some sites in the hopes you'll reciprocate with a similar nice comment on their work. I mean the critiques where they actually suggest you could have cropped the image a different way, or "why does your horizon lean left in all your pictures, don't you own a tripod?" Later Iíll have another blog entry to cover my philosophy on comments and critiques.

What have I learned during this introspection? I learned I now have some definite opinions of what makes a good image. First, my pet peeve is focus. This is probably due to my being near sighted and never seeing the world in focus until I received my first pair of glasses in middle school. In my meanderings of various online galleries I've seen many excellent works where the focus is impeccable and so the details are amazing. These are the ones I spend more time studying/admiring. I have also seen some works with wonderful composition, colors, tones and subject matter. However, closer inspection shows the details blurred due to poor focus. I'm not just talking about photography. I've found paintings and sketches that were poorly photographed which really detracts from the original work. In my mind, if you're an artist using paint, pencil, ink , etc. and you've spent hours with tool of choice in hand creating a piece of work you're proud enough of to display to the world, then get someone with a quality camera and sufficient skills to correctly capture the essence of your art. When you review the images, be very, very picky. It's your work that will suffer if you're not. When I zoom in to an image of a painting I expect to clearly see the brush strokes that are the soul of the work. There are plenty of online articles that explain how a piece of art should be digitally captured. Now, back to the photographers; there are too many gadgets and even more "how to" articles out there for improving focus and minimizing blurring for us to be posting fuzzy images. I used to try and hand hold my camera for all my pictures with hit and miss success. Today I believe collecting a bunch of fuzzy pictures because I'm too lazy or proud to carry/use a tripod or other stabilizing device is a waste of my time, and every day I find I have less of that to waste.

I also found Iíve moved more from just capturing the shot towards creating an image. I thought having had years of art training that I would have automatically stepped right into using good composition techniques when using a camera. Not so. That little dot in the middle of the focus frame has a way of driving oneís brain to cause you to center your subjects on it. Until we learn to start thinking about the final image first, we have a tendency to use the camera like a rifle scope and take aim at the subject. Again this is where taking oneís time can make the difference. If the situation allows it, use basic composition guidelines in the camera when taking the picture. Look around the subject for distractions before clicking the shutter. Move the subject or yourself as necessary to improve the image. Get the best image you can before pressing the shutter button. This will save you time on the computer. There are situations where you only have time to aim and fire. However, just because time was not on your side at the shoot doesnít mean you canít turn a shot into a fine image. I may capture a shot of a bird in flight with the camera but, I will create an image of a bird in flight on the computer. This is done using the crop tool in your software. Sometimes trimming a little here and a little there will vastly improve an image.

I have also found that Iím keeping fewer of my earlier images than I expected due to the factors I stated above. Images that wowed me when I originally processed them now make me chuckle as I move them into the bit bucket. A few Iíve revived with my improved software and workflow skills, but Iíve noticed quite a few just canít be helped. In the end I may have fewer images to show but theyíll better represent my current interests and skills.

Now the big question, when will I be done? I donít think this process once started can ever be done. As I go through my images I not only improve and discard some I discover a few I originally overlooked. On top of this Iím still adding new images to my collection. These newer images will most likely become my new standards against which to measure my older ones. As you can see this becomes a vicious never ending cycle as long as Iím pressing that shutter release and learning new ways to improve my skills and therefore my art. Good thing I love this hobby!

Thank you for following my work and feel free to leave comments or suggestions.

November 29th, 2010
In my previous entry I mentioned that I had upgraded my equipment. My bio states that I stepped into the digital realm of photography with a Sony A100 DSLR (10 MP). That camera served me well and is actually still very active with its new owner. Like many folks however, I found that It didn't offer the advanced features that I wanted so I then stepped up to the Sony A700 DSLR (12 MP). It provided quicker focus, more refined control of image capture and the ability to offer larger prints. While I had this camera I started upgrading to better quality lenses. Not the best just better. This upgrade resulted in less time fixing my pictures and more time taking them. A bit more than a year ago I upgraded to the Sony A900 DSLR (24.6 MP). I kept many of the features of the A700 plus I got full-frame. At the same time I also went for the best lenses they offered, the Zeiss 16-35mm f/2.8 and the 24-70mm f/2.8 zooms.These with my Sony 70-200mm G SSM f/2.8 with matching 2x Teleconverter provide me with a continuous range frome 18-400mm. I spend even less time correcting images even more time taking them. Now when I use photoshop "creatively" it's to be creative and not to "save" a picture.

The main lesson here is to start out with as good a glass as you can afford. The camera does have an effect on your pictures but, nowhere near as great as the lenses you use. In the end you'll save money, time and frustration.
November 29th, 2010
It has been awhile since I started my galleries here on FAA. Since then I've changed jobs, done a bit of traveling, upgraded all of my camera gear and software and photo skills. If you are familiar with the images I've had posted here you will see a marked difference with my new works. In some cases I'll be updating the older images with my improved processing skills and some I'll be pulling because they don't meet my new standards. I hope you enjoy my new works.